Have you ever been distracted by something fascinating and then suddenly turned around to see something else was going on...something radically different than what you expected? Why did you allow yourself to be tricked into focusing on the pretty thing instead of the reality of the situation? Why did you think the "Ooo shiny!" object was worth your while to begin with? Who led you down this wrong path? Why did you believe them in the first place? Our guest blogger takes a look at this all-to-human phenomenon in the realm of politics.
The Politics of Distraction
by Coast Watcher
Social media is a great tool for spreading information, but it also serves as a distraction from important issues.
Trump's administration is responsible for so many disastrous policies. Through him the US is embroiled in a growing trade war with China. There's crushing student debt and increasing poverty across the nation. Many Americans can no longer afford a car or to have one repaired.
A burgeoning budget deficit breaks records every day. Crony capitalists who make their money from government handouts or connections are getting richer and richer. The country is suffering struggling job growth and increasing and blatant industrial plundering of the national parks.
The environment is undergoing a terrible change for the worse with record heat and record flooding. Millions of Americans are threatened with losing their healthcare coverage. Many are dying from rationing their insulin because they can't afford it. ICE, a government agency, is perpetrating atrocities against immigrants that wouldn't look out of place in a history of the German Nazi regime…
…Yet we allow ourselves to be distracted by such things as the suspicious death of registered sex offender and accused pedophile Jeffrey Epstein.(Don't worry. The Clintons won't have to answer for anything. They never do.)
Before that was the removal of Confederate statues, or Trump's frequent and often incoherent speeches and Tweets. Who can forget his famous "covfefe" Tweet or "hamberders?"
Perhaps the best example of corporate media distraction is the Russiagate affair. How many times did MSNBC's Rachel Maddow pronounce on this piece of nonsense over the course of three years? ("Russia! Russia!") We lost count.
And Trump's impeachment? At the rate it's going, pigs will fly first. Don't hold your breath the Senate will ever try him. But it's got you distracted from worrying about the immigrant children sleeping on concrete floors in cages along the borders, hasn't it? A magician couldn't wish for better sleight of hand!
To be fair, when Trump does commit an even greater piece of buffoonery or plain stupidity than usual--t
he prize example is a speech he gave wherein he claimed American soldiers captured airports during the Revolutionary War--

we have to laugh. It's either that or go insane from the relentless awfulness of his regime.
All I'm saying is, when a piece of news crops up that has everyone distracted, it pays to look around to see what else is going on that the government may not necessarily want us to know about. Are we dropping bombs anywhere? Starting World War 3? It pays not to fall for the politics of distraction.
Bio: Coast Watcher isn't about to be distracted from the corruption happening in our government and in governments throughout the world. That's why he carries his binoculars wherever he goes. He suggests you do the same, keeping a close eye on your elected representatives at all times. Don't let them--Ooo shiny!
***
Do you ever feel like the corporate news channels just aren't getting it? They are too slow in reporting what's really happening in the world when it's actually happening? Lee Camp in the following video shows us how many times he's gotten it right long before the mainstream media. You'll be impressed with how many times he's called it!


https://youtu.be/3R_MMge4H80
***
Coming soon: A movie based on a true story, exploring the high price paid by a whistle-blower who only wanted to stop a war and save lives...
https://youtu.be/CFNfdiIkdio
***
If you really change your ways and your actions and deal with each other justly, if you do not oppress the foreigner, the fatherless or the widow and do not shed innocent blood in this place, and if you do not follow other gods to your own harm, then I will let you live in this place, in the land I gave your ancestors for ever and ever. But look, you are trusting in deceptive words that are worthless.
—Jeremiah 7:5-8
One week ago, we were in El Paso at the invitation of the Border Network for Human Rights to highlight the violence that their community has been suffering. We heard stories of families separated, asylum seekers turned away and refugees detained like prisoners of war. We heard how their community has been militarized and how poor border communities have been especially targeted. We promised that we would do everything in our power to compel the nation to see this violence. Just a few days later, a terrorist opened fire in El Paso. And then another attack occurred in Dayton.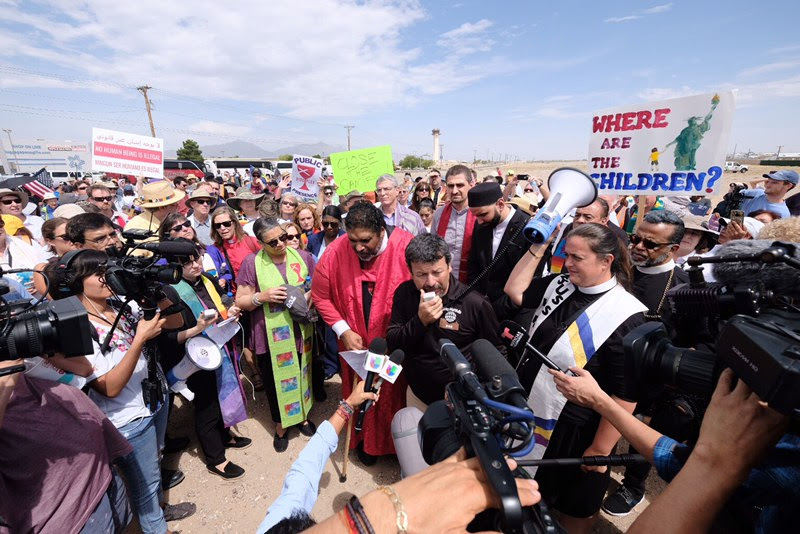 In reflecting on these outbreaks of violence, our hearts are broken. This moment demands a moral reckoning with who we are and who we want to become as a nation.
The truth is that, while every generation has worked to push us toward becoming a more perfect union, we have also tolerated lies that beget violence. America's founding fathers spoke of liberty, while drafting documents that called Native Americans savages, accepted the enslavement of Africans, and ignored the voices of women. This hypocrisy created space for slaveholder religion to bless white supremacy, pseudo-science to justify eugenics, a sick sociology to pit people against one another, and predatory policies to scapegoat non-white immigrants and blame poverty on the poor.
Politicians who try to denounce the racism of an individual, but do not denounce racist policies refuse to deal with the depths of the problems we face. We cannot address the violence of white nationalism without stopping the policies of white nationalism and the lies that are told to justify them. In 1963, George Wallace began to spew racist rhetoric from the governor's office in Alabama. By the end of that year, Medgar Evers was dead, four girls in a church were dead, and a President was dead because these words and these policies were a breeding ground for violence. It always has been that way. Whenever we've had these words and policies, they have also unleashed this kind of violence.
For this reason, we call on President Trump, Members of Congress and Presidential Candidates, our people on the ground in movements and communities of struggle, people who have embraced the lies of white nationalism, and our religious leaders and people of faith and conscience to revive the heart and soul of this country.
Mr. President, we recognize that you are a symptom of our decaying moral fabric and you have ignited a modern day wildfire. The coals of white nationalism are always smoldering in our common life, and they have fueled the violence of indigenous genocide, slavery, lynching and Jim Crow. Stop stoking the fires of violence with racist words and policies. Mr. President, you must repent in word and deed if your leadership is to bring us together, rather than tearing us apart.
To Members of Congress and our elected representatives, we ask you to ensure our domestic tranquility. You can take immediate action to stop the President's racist attacks on immigrants. You can act to ensure voting rights, pass gun reform to keep weapons of war out of our communities, end federal programs that send military equipment to our local and state police departments, pass immigration reform that allows us all to thrive and build up the country, ensure good jobs and living wages and relief from our debts, and guarantee health care and social programs that meet our needs. The lies of white nationalism have prevented action on all of these issues, and those who have enabled the President or remained silent are culpable.
As you return to Washington D.C., we call on Congress to honor the August 28 anniversary of the March on Washington and the murder of Emmett Till by passing an Omnibus Bill that offers a comprehensive response to the systemic racism that connects the issues facing 140 million poor and low-wealth people in this country.
To all candidates running for President in 2020, we call on you to address both the violence of racism and the policies of racism and white nationalism in the public debates. We ask you to connect these policies of systemic racism to poverty, ecological devastation, the war economy, militarism and a distorted moral narrative that accepts, justifies and perpetuates systemic violence.
To our movements and organizations on the ground, do not go back to your silos; instead we must build a moral fusion movement. We have been organizing in separate streams, often along lines of race, issue area or geography, but we need much more than our own fights can win. This is not the time to become entrenched in those divisions. We need to come together across race, gender, sexual orientation, religion, issue, geography and other lines of division to make a fight for everything we need and make sure we are all in — nobody is out.
To those who have embraced the lies of white nationalism and racism, we humbly recognize the power of fear. We live in a time when many people do not know if they will have work today or health care tomorrow. Many families do not know what agency is coming for them or their children. We do not know who to trust and have been left to fend for ourselves and whoever we believe to be on our side. Let us find strength in our pain, mourn our losses, and remember that we are all part of a common human family. Let us reject every attempt by politicians and corporate interests to pit us against one another. Let us confess that white nationalism is a myth that has not served most people, even those it claims to protect. Let us fight for each other and for a world where everyone can thrive.
To our religious leaders and people of faith, we call on you to offer moral leadership in the public square. If you have condoned the lies of white nationalism or remained silent, you have failed to keep your sacred vows. We ask you to recall the struggles of our ancestors so we can work together to build up a more perfect union in our common life.
We call on all people of faith and conscience to sign on to this letter and share it throughout your networks. Let us prevent this violence from defining who we are as a nation and people.
SIGN THE LETTER
Forward together, not one step back.
Rev. Dr. William Barber, II, President, Repairers of the Breach and Co-Chair of the Poor People's Campaign: A National Call for Moral Revival
Rev. Dr. Liz Theoharis, Director, Kairos Center for Religions, Rights and Social Justice and Co-Chair of the Poor People's Campaign: A National Call for Moral Revival
Rev. Teresa Ward Owens, General Minister and President of the Christian Church (Disciples of Christ)
Rabbi Rick Jacobs, President, Union for Reform Judaism
Minister Jonathan Wilson-Hartgrove, Red Letter Christians
***
From Credo:
For Donald Trump, cruelty and corruption are virtues. He doesn't care if he's tearing children away from their mothers or promoting racism so long as he and his friends end up feeling powerful and benefiting financially.
No wonder he is on a mission to deny SNAP benefits – popularly known as food stamps – to millions of Americans. He's trying to change the rules and rob 2.5 million people of food security.1 It's not just SNAP benefits – Trump's proposal would sneakily steal free school lunches from 500,000 kids.2 It's unacceptable, and we need to make sure the administration knows it.
Tell the Department of Agriculture: Don't cut SNAP benefits. Click here to sign the petition.
Changing who is eligible for SNAP benefits would take school lunches off the trays of more than 500,000 children, in addition to robbing families and single adults of food security. These are the people crushed in the Trump economy of tax handouts for the rich and benefit cuts for everyone else, and now Trump wants to make it worse.
Currently, states have the leeway to allow people to access SNAP benefits while still building up some small savings for the future. The new Trump Department of Agriculture proposal would eliminate that flexibility and rip SNAP benefits away from people who rely on them for food security. When you factor in that SNAP is one of the most effective and efficient ways to reduce poverty and boost the economy from the bottom, Trump's proposal looks even more ridiculous.3
It's cruel – and that's the point. Trump and his puppets in Congress will make noises about fraud and spending while continuing to pour money into a Pentagon that cannot even pass an audit. They are fine with lighting money on fire if it benefits their rich and powerful pals, then use nickels and dimes as an excuse to beat up on lower-income people.
The public comment period just opened – let's pour on the opposition and make it clear that Americans know what they are trying to do. When you sign the petition, we'll count your signature in our comment to the Department of Agriculture.
Tell the Department of Agriculture: Don't cut SNAP benefits. Click the link below to sign the petition:
https://act.credoaction.com/sign/food-stamps-comment-19?t=9&akid=33583%2E9999572%2EGzhQFO
Thank you for speaking out,
Heidi Hess, Co-Director
CREDO Action from Working Assets
References:
Karen Dolan, "Opinion: Trump's cuts to food stamps are indefensible, economically and morally," MarketWatch, July 31, 2019.

Ibid.

Ibid.