Slave Patrol Immigration Policy
by C.A. Matthews

Images of white lawmen on horses whipping poor black migrants crossing a river have been thrown in our faces repeatedly. Is it any wonder that the first thing to come to mind is, "The slave patrols never went away in the US, did they?" Welcome to 21st America! Welcome to a nation where racism is enshrined in its immigration laws in spite of a civil war that supposedly outlawed slavery and civil rights regulations that supposedly maintain the fiction of equality for all.

Is it really any surprise that the slave patrol still exists? The history of the US Border Patrol predicted these lawmen's recent actions toward the Haitian migrants:

Since its creation in 1924, the US Border Patrol has been steeped in institutional racism and has committed violent acts with near impunity. The racial animus of US immigration policy in the late nineteenth and early twentieth century formed the foundation for the agency. Federal laws banning Asian immigration were followed by the national origins quota system, which prioritized northern and western Europeans over the rest of the world. While not included in the original quotas, Mexicans, who previously could travel freely across the US-Mexico border, began to experience increasing restrictions in the 1920s.

Congress created the Border Patrol in 1924 to patrol the northern and southern borders between ports of entry. Many officers came from organizations with a history of racial violence and brutality, including the Ku Klux Klan and the Texas Rangers, carrying over the culture of a racist "brotherhood" into the new agency. In the Border Patrol's early days, it focused on the unlawful entry of Asian and European immigrants. However, in the 1930s enforcement began to shift to Mexican citizens entering along the southern border.

https://www.americanimmigrationcouncil.org/research/legacy-racism-within-us-border-patrol
Our government actions towards immigrants have become so horrendous that even government officials cannot tolerate them any longer:

"I will not be associated with the United States inhumane, counterproductive decision to deport thousands of Haitian refugees and illegal immigrants to Haiti, a country where American officials are confined to secure compounds because of the dangers posed by armed gangs in control of daily life," wrote former Haiti envoy Daniel Foote in a letter to Secretary of State Antony Blinken on Wednesday.

"Our policy approach to Haiti remains deeply flawed, and my recommendations have been ignored and dismissed, when not edited to project a narrative different from my own."

US Diplomat to Haiti Resigns Citing Inhumane Deportations

https://truthout.org/articles/us-diplomat-to-haiti-resigns-citing-inhumane-deportations/
Envoy Foote understands that all who present themselves at the border asking for asylum are legally within their rights to receive a credible fear hearing. Even federal judges have called on the Biden administration to stop pursuing the "Trump policy" of Title 42:

All people who are physically present in the United States have the right to apply for asylum, "whether or not" they come through a port of entry or cross the border without authorization. Since Title 42 went into effect at the border in March 2020, the Border Patrol has carried out over 1,100,000 expulsions, regardless of whether the person was seeking asylum or not. Yet even after a federal judge ruled last week that the Title 42 policy was illegal – at least in terms of its use against families with children – the Biden administration chose to immediately appeal that decision.
Del Rio Migrant Camp Shows How Biden Administration Isn't Living Up to Its Promises


https://immigrationimpact.com/2021/09/21/haitian-migrant-camp-biden-promises/
Will we be seeing changes in immigration practices, policies, or laws anytime soon? One would hope these horrific images would provoke change, but it's doubtful. It's doubtful because the true forces that rule, the billionaire oligarchs, don't see the kind treatment of strangers on our borders as necessary. In fact, it suits their purposes just fine to keep a permanent underclass of workers that can be easily manipulated through the fear of deportation back to a country that is falling apart physically and politically. When that doesn't stop those brave souls that go forward with their plans to come to the US to join friends and family here, we resort to what we've always done. We strike fear into their hearts through the use of 21st century slave patrols.
And some folks wonder why I snigger at this line from the Pledge of Allegiance: With liberty and justice for all. It depends on how you define all. It obviously doesn't include Haitians...or Mexicans...or Hondurans...or Guatemalans....

More articles:
Haitian Rights Are Human Rights https://popularresistance.org/haitian-rights-are-migrant-rights/
Haitians Who Fled The US Border Are Now Facing Nights of Raids and Terror in Mexico https://www.buzzfeednews.com/article/adolfoflores/haitians-us-border-night-raids-mexico
Black Alliance for Peace Condemns Biden Administration's Order to Deport Haitians as Illegal and Racist https://popularresistance.org/black-alliance-for-peace-condemns-biden-administrations-order-to-deport-haitians-as-illegal-and-racist/
How Communities Are Urging Congress to Stop Funding Cruelty Against Migrants https://www.afsc.org/blogs/news-and-commentary/update-how-communities-are-urging-congress-to-stop-funding-cruelty-against
Biden's Border Patrol Whipping Refugees! https://youtu.be/JLRPaoyFOQc
You have questions as to why border police would assault Haitians, the story from the absence of the major white colonial powers from the day- long UN event on race is a good indicator of where the U.S. & its allies stand on white supremacy. https://t.co/xA22f83Scm

— Ajamu Baraka (@ajamubaraka) September 23, 2021
***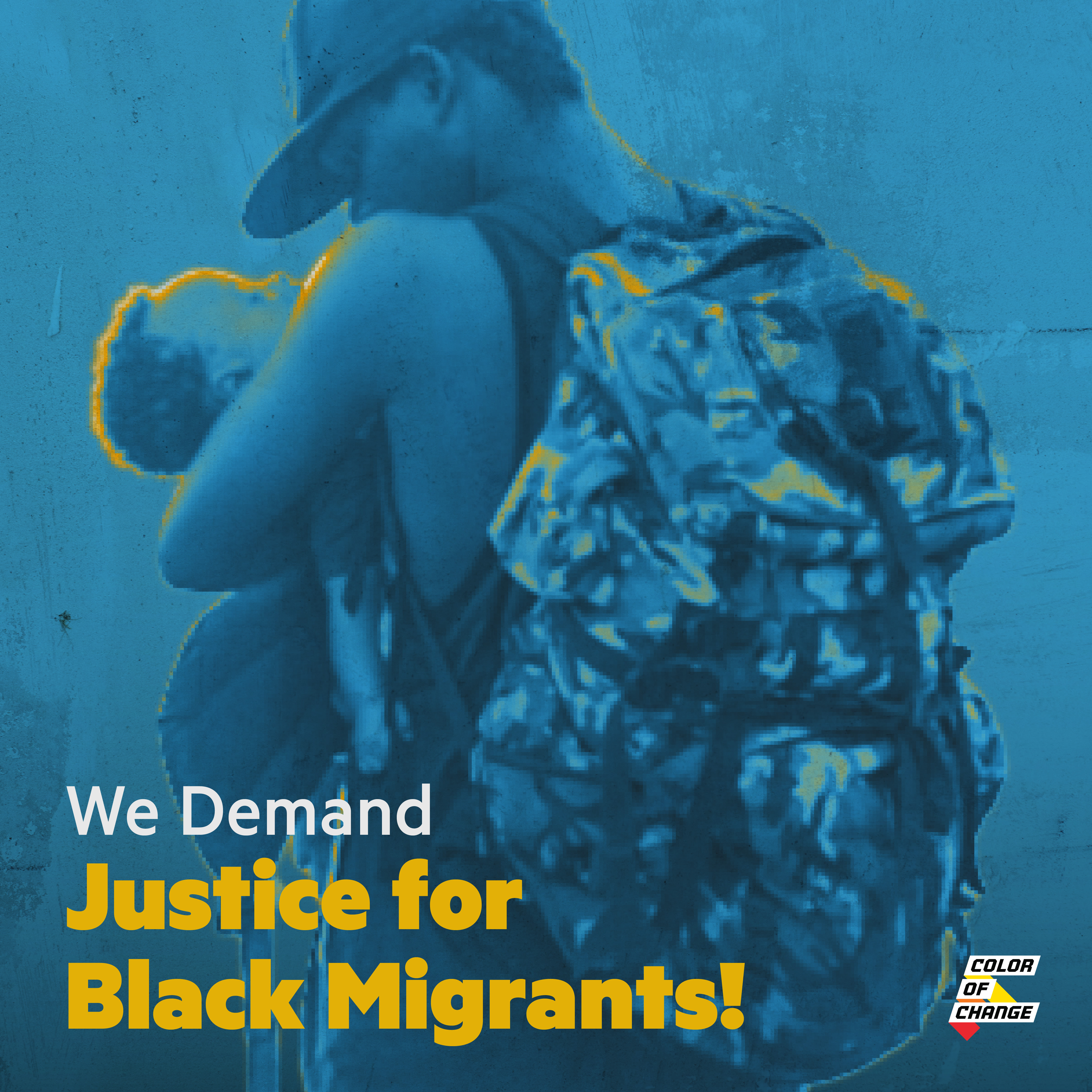 You already know that when we say: Black lives matter, we mean ALL Black lives. Including Haitian asylum seekers at the border.
And yet, this past week, we were reminded once again just how deeply ingrained anti-Blackness is in the institutions upon which the nation relies.
We don't need to show you the images that surfaced from the US-Mexico border of white Border Patrol officers on horses chasing, yelling, and whipping Haitian asylum seekers to tell you how viscerally it conjures this country's not so distant past; visions of violent slave patrols and public lynchings reimagined by modern-day henchmen.
Haitian asylum seekers who have for weeks and months been fleeing toward what they thought was safety, were terrorized, abused, and then deported. Others are being sent to Guantanamo Bay, or back to Mexico where organized crime and collaborators in Mexican security forces routinely prey on migrants - especially Haitians, who are particularly vulnerable because of their skin color.
It's time to put an end to anti-Black immigration practices. Seeking asylum is a legal and human right, fundamental to maintaining democracy. It must extend to Black people
sign our petition & demand biden protects black migrants today
While on the campaign trail, Biden made promises to the Haitian community to have more fair immigration policies. And yet he may soon be responsible for carrying out the largest mass expulsion of would-be asylum-seekers in recent American history.
Thousands of people, including families and children, will be expelled to Haiti - a country the Administration itself has described as teetering on the brink of collapse as a result of centuries of imperialism and foreign intervention intent on destabilizing the first Black republic.
In just the past two and a half months alone, Haiti has seen its president assassinated and weathered a devastating 7.2 magnitude earthquake, all in the middle of a pandemic.
It would be unconscionable to send people back to Haiti.
Biden promised us a more humanitarian approach to immigration AND a commitment to racial justice. We demand the Administration follows through on its promises by:
Stopping deportations to Haiti
Granting humanitarian parole to thousands of Black asylum seekers and processing their claims without further delay
Conducting a thorough investigation into the acts of Border Patrol agents in Del Rio and anti-Black practices throughout the agency
Halting the treatment we witnessed, and instead employing a humanitarian approach to immigration
add your name to our demands & affirm that all black lives matter
Make no mistake, what's happening at the border right now is an extension of white supremacy in the United States.
Every arm of our country's incarceration and deportation machine bears down on and disrupts Black people and communities. For decades, Black migrants have faced disproportionate rates of detention and deportation, and abuse like solitary confinement within detention centers.
The message we're being told once in again is: Black people are unwelcome in the United States, and are subject to policing and abuse.
From police to immigration, we cannot and will not tolerate anti-Blackness.
Immigration is a Black issue. And we must:
Until Justice is Real,
Scott, Erika, Rashad, Arisha, Malachi, Megan, Ernie, Palika, Ariel, Madison, Trevor, Erick, Ana, Kristiana, McKayla and the Color Of Change team
***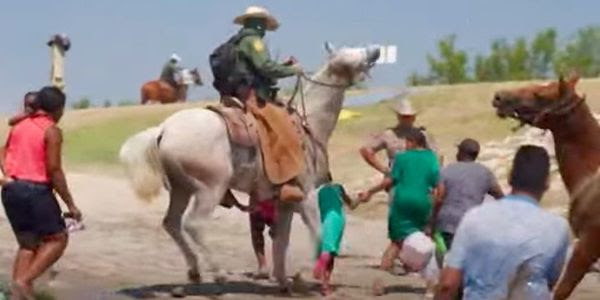 Border agents attacked asylum seekers with whip-like cords and horses



One month ago, Haiti endured a horrible earthquake that roiled the island. Homes, churches, hotels, and more collapsed into rubble, leaving tens of thousands of people displaced. Officials estimate that upwards of 50,000 homes were decimated nearly overnight.

In the wake of this calamity, refugees have turned to the United States as a beacon of hope in a time of sorrow. But recent video footage shows U.S. Border Patrol agents in Texas literally whipping the refugees with cords, as well as corralling the asylum seekers by lunging at them on horseback and physically grabbing at them. Sign the petition to demand justice and an end to this cruelty!

These refugees came here believing the U.S. could be a place filled with benevolence and possibility. Seeking asylum is not a crime in the United States. In fact, it is a nationally and internationally protected human right, one for which the U.S. technically has a process. That process is not supposed to include heaving whips at those in need of help. On top of that, the Biden administration has recently undertaken a mass deportation operation against Haitian refugees, sending back upwards of 6,000 people already. Sign the petition to tell the U.S. government, including President Joe Biden to stop the inhumane treatment of refugees now, and to halt all deportations of asylum seekers!

Thank you,

Kelsey
The Care2 Petitions Team

P.S. The U.S. must live up to its moral responsibility as a powerful, resourceful nation to do right by those who are in desperate straits, and at the very least, do no harm to asylum seekers. Sign the petition.




***
It is hard to look at the horrific images from the southern border.
The sight of armed men on horseback — agents of the United States government — attacking Haitian migrants, camped in a small Texas border town, immediately brings to mind the horrors of chattel slavery. And for those of us of the Black Diaspora, it is a horrifying vision that reaches into our past and tells a damning truth about our present.
And even though we're now being told that the last of the makeshift camps have cleared and the migrants are headed for Customs and Border Protections Centers, what we saw this week was yet another reminder that the humanity of Black people is always, at best, conditional.
As we demand justice for Haitian migrants, we must also reckon with the knowledge that Haiti has borne the brunt of imperialist anti-Blackness for centuries and that this is yet another in a long line of pointed cruelty that has long been leveled at Haitian immigrants.
Anti-Blackness within our country's long history of white supremacy often excludes the voices and experiences of Black immigrants from mainstream conversations about immigration and immigrant rights.
And the horrifying scenes from the border have been anti-Blackness in action.
At NDWA, we see this anti-Blackness every day: the systematic devaluation of domestic work is so deeply rooted in race and gender discrimination against Black women from across the Diaspora that has survived through laws, attitudes, and culture since slavery.
This is why We Dream in Black (WeDiB), NDWA and our Black Caucus, comprised of Black staffers, stand in solidarity with Haiti and Haitian refugees in every way possible and will continue our work to dismantle the centuries of institutionalized anti-Black racism that led to this most recent horror.
NDWA and our Families Belong Together (FBT) campaign will remain vocal in calling out the Biden administration for exacerbating this crisis with cruel Trump-era immigration policies, and we will continue to do all we can to center Black needs, voices, and leadership in our work.
If you're looking for ways to assist those working on the ground during this unspeakable crisis, we've pulled together ways you can offer support.
In solidarity,
We Dream in Black
The Black Caucus of the National Domestic Workers Alliance