The Lake Erie Bill of Rights is on the Ballot
Toledoans for Safe Water activists braved the cold rain to attend the Lucas County Board of Elections hearing to see if their citizens initiative would be allowed on the February 26 special election ballot. After months of delays and frivolous "protests", the BoE was forced ("reluctantly" they said) to listen to the will of the people and allow the Lake Erie Bill of Rights on the ballot.
Now the fight truly begins.
Fundraising has begun in earnest to help cover advertising costs to reach the voters. No doubt the deep pockets of the CAFOs and Big Oil & Gas lobby will finance a smear campaign to convince voters that clean water and a clean lake isn't in their best interests.
Here's their latest new release and link to where you can help:
Victory for Lake Erie!
Board of Elections Votes to Put Lake Erie Bill of Rights on Ballot
FOR IMMEDIATE RELEASE
December 20, 2018
Contact Toledoans for Safe Water
Markie Miller, organizer
Crystal Jankowski, organizer
SafeWaterToledo@gmail.com
419-482-8470
Toledo, OH: On Thursday, Dec. 20 the Lake Erie Bill of Rights (LEBOR) advanced to Toledo's February 26th special election following a hearing held by the Lucas County Board of Elections (BOE). The BOE scheduled the hearing after a formal protest was filed against the LEBOR by the Columbus law firm McTigue and Colombo on behalf of Toledo resident, Josh Abernathy. Toledo attorney, Terry Lodge represented the resident group, Toledoans for Safe Water, who submitted the LEBOR for placement on the ballot back in August.
After hearing legal arguments from both sides, the BOE adjourned to another room to consult with the county prosecutor. When they re-entered the room, they returned a unanimous vote to move LEBOR forward to the special election, although not without making several personal statements on their views on the LEBOR. Ultimately they upheld the people's right to vote.
"Finally, Toledoans will get to vote on whether or not they want to protect the lake and their drinking water. For far too long the people have been silenced with their rights revoked on baseless grounds, and the Lake has never had its rights recognized. Now the people will have a chance to change that," said Crystal Jankowski with Toledoans for Safe Water.
Prior to the hearing, supporters of the LEBOR demonstrated outside in the rain with signs and visual displays representing the 10,500+ signatures of Toledo residents silenced by the protest of one resident, Mr. Josh Abernathy.
"Members of Toledoans for Safe Water have already been planning our campaign, but will now kick it into full gear with today's decision", stated Markie Miller of the group. "If people want to help with the campaign they should contact us at www.LakeErieAction.org."
Your Drinking Water Could Soon Come From Unregulated Rivers and Streams
***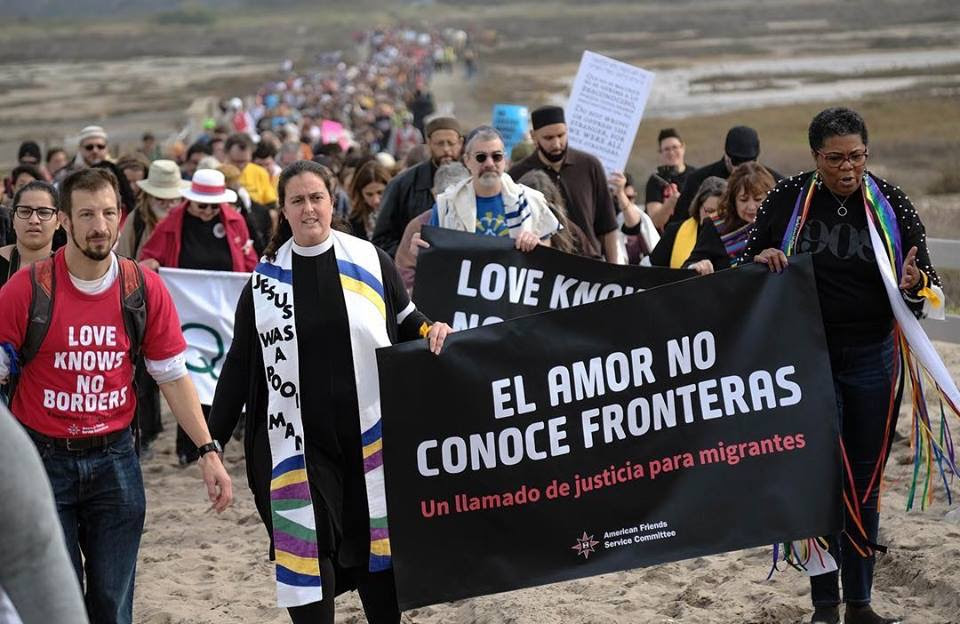 Dear Friends,
The government shuts down upon threats of a wall. A child dies in the custody of U.S. officials at the border. The President orders sudden troop withdrawals that provoke global instability. All this took place in the last week alone.
Some may see the holidays as a time to retreat from the cascade of crises facing our nation and world.
We choose to see the holidays not as a time to try to escape but as an opportunity to ground ourselves in joy.
Joy returns us to everything that is good and beautiful and worth fighting for. Joy gives us the energy to continue our labors to make a viable life and more just world. Joy comes when we draw our attention to the present moment -- a child's laughter, a neighbor's cookies, a lit candle. In a time such as this, joy is an act of moral resistance.
We believe that it is always possible to find joy, even in the midst of grief and outrage, when we come together in community.
Just a few days ago, our friend Rev. Katharine Henderson delivered the messages of love and support that many of you sent to the families of the Tree of Life Synagogue in the wake of the mass shooting by a white supremacist. We had collected these letters alongside our partners Auburn Seminary, the Sikh Coalition, and the Sikh community of Pittsburgh. They were delivered at an interfaith gathering
in the form of a book that you can read here. Communities like these show us that it is possible to claim life and joy, even in the face of hate.
So this week, we send you a
song, a sermon
, and
a piece of news
that invite you to open your hearts to
all
the demands of love — grief, outrage,
and
joy. May these sources provide nourishment during this holiday. We will be here on the other side to continue the labor with you. #BreatheAndPush
- Amy, Melissa, Julianna, Elizabeth, and the Revolutionary Love Team
"We won't sleep. They'll try to get us. We goin' reach. We'll reach out for love. We won't sleep. Not till it's over. Even with the blurry eyes, baby we won't compromise."
A SERMON: "BUILDING A NEW AMERICA"
WATCH/READ/LISTEN to the most powerful sermon we have heard this year

by our prophetic sister Rabbi Sharon Brous of IKAR Los Angeles:
"These are trying times, but we must not let exhaustion or cynicism dull our senses. Our history has taught us: either you work to dismantle oppressive systems, or your inaction becomes the mortar that sustains them. Together we must build America anew: fierce, fair, and full of promise, equipped to hold us in all our diversity, complexity and beauty."
A PIECE OF NEWS: "LOVE KNOWS NO BORDERS"
This article in The Nation
shares fierce wisdom from our friend and sister Rev. Traci Blackmon who joined more than 300 faith and moral leaders at the border last week to mark the 70th anniversary of the United Nations' adoption of the Universal Declaration of Human Rights. Rev. Blackmon tells Jesus' story as a way to bear witness to cruelty at the border and declares "love knows no borders."
"In an extraordinarily powerful speech near the end of the two-and-a-half-hour service, the Rev. Traci Blackmon, a St. Louis–based minister with the United Church of Christ and a steering-committee member on the Poor People's Campaign, talked of how the "brown-skinned Jesus, seeking refuge in a foreign land," would not have been admitted into Trump's America. How 'his family might have been greeted with tear gas or rubber bullets, or, worse yet, he might have been taken from his mother's arms.' Blackmon told the gathering that they were 'compelled to show up and guide this country to our moral selves. When laws are co-opted for greed and political gain, and used as weapons of disenfranchisement, then people of faith and of moral character are compelled to resist in the interest of preserving our humanity.'"
We are over halfway to our goal of partnering with 200 people to become monthly donors and pledge $15/month to sustain our work. Thank you! Our donors receive a thank you gift + will be the first to learn about the work we produce before it's released. If you haven't yet donated, please
click here to join us
!
The Revolutionary Love Project envisions a world where love is a public ethic and shared practice in our lives and politics. We generate stories, tools, and thought leadership to equip people to practice the ethic of love in the fight for social justice.
Copyright © 2018 The Revolutionary Love Project, All rights reserved.
You are on this list because you have signed up to join us online or have taken action with us at Groundswell Movement. We will continue to send you regular emails that share calls to action, reflections, readings, and tools to practice the ethic of love in an era of rage.

Our mailing address is:

The Revolutionary Love Project
University of Southern California, University Park Campus
University Religious Center, Rm 106
Los Angeles

,

CA

90089