It's amazing how certain words can become hot buttons for certain Americans. "Socialism" is one of them. "Cuba" is another. With both of these terms back in the propagandists' mill this week, we invited our resident historian to give us his take on all things Cuban and socialistic.
Cuba Libre
By Coast Watcher
I sit on a man's back, choking him and making him carry me, and yet assure myself and others that I am very sorry for him and wish to ease his lot by all possible means—except by getting off his back. ~ Leo Tolstoy.
President Joe Biden recently called Cuba's government a "failed state." His statement is patently false. How can any state said to be failing for sixty years? The truth of the matter is, the Cuban communist government is under severe pressure due to the United States general vindictiveness toward a country that has refused to kowtow to the might of capitalism. The current straits endured by the Cuban people are entirely due to the embargo imposed upon their nation by the United States, an embargo it is forcing the rest of the world to take part in.
The United Nations recently attempted to lift the embargo. All but two nations voted to do so. The exceptions were the United States and Israel. (Funny that. We seem to be on the Israelis' side whenever they do something wildly unpopular like bombing civilians and vice versa. --Editor) The US used its veto power, so the proposal failed. The embargo stays.
The shortage of syringes with which to vaccinate people seems to be the cause of the current protests. So why not allow Cuba to import syringes to fight Covid in the same way Cuban medical professionals have traveled to other countries to help combat the pandemic? Because medical paraphernalia is one of the items banned under the embargo. (Of course they are!)
It's no secret that most of the impetus behind the US policy toward Cuba comes from self-styled Cuban Exiles, people who benefited hugely from the fascistic Batista regime that ruled the island from 1952 until 1959. It's no secret that Big Business is salivating at the prospect of once again getting a chance to plunder Cuban resources, probably to the point where it becomes yet another Haiti or Puerto Rico. Biden's White House, like all others before since 1959, is going along with the capitalists' plan.
After the long series of ignominious pratfalls the CIA has endured since 1959, it looks suspiciously like the CIA is once again involved in trying to overthrow the Cuban government. (Exploding cigars are probably out this time.) Mainstream media is playing up the seriousness of the suspiciously well-equipped protests currently underway in Cuba, and not mentioning anything about the huge counter-protests supporting the communist government.
Some have even called for airstrikes against Cuba, which is really upping the ante. But then, the US is never above preemptive strikes against anyone who annoys the capitalists in charge—and Biden has never met a war he didn't like.
Would the US dare to deploy its massive navy in an actual blockade to prevent the rest of the world from trading with Cuba? Would Biden dare to risk huge disapprobation on the world stage for showing his country to be the bully really it is? Frankly, it's high time the rest of the world called the US bluff, and tell it exactly what it can do with its embargo. (The UN should tell us to stick it where the sun don't shine--straight into the heart of our vampire politicians. -- Editor)
BIO: Coast Watcher sees through the haze created by the mainstream media propaganda machine regarding Cuba and calls them on their bullshit. It's time for Americans to wake up and smell the shit that has been dumped unceremoniously on the Cuban people for decades and help our neighbors to the south shovel themselves out of it. They may even thank us by sending over some of their world-renown Henry Reeve Brigade medics to help out Americans without access to adequate health care during a pandemic in return. Think about it.

"If President Joe Biden really had humanitarian concerns for the Cuban people he would eliminate the 243 measures applied by President Donald Trump, including 50 imposed cruelly during the pandemic," Cuban President Miguel Diaz-Canel wrote on his Twitter account.
Related Articles:
If Biden Wants to Stand with the Cuban People He Can Ease the Cruel Blockade https://truthout.org/articles/if-biden-wants-to-stand-with-the-cuban-people-he-can-ease-the-cruel-blockade/
What Biden Could Really Do to Help Central America https://scheerpost.com/2021/07/19/what-biden-could-really-do-to-help-central-america/

https://www.britannica.com/biography/Fidel-Castro
https://en.wikipedia.org/wiki/Henry_Reeve_Brigade
Journalist Max Blumenthal of The Grayzone shines more light into the dark corners of this story. https://youtu.be/djj84ooaJCs
What's behind the Cuba protests? The cruel Trump sanctions & U.S. blockade! Tell President Biden to lift them now!
From sanctions against Iran and Venezuela to the blockades of Gaza and Yemen, we know well how devastating economic warfare can be. This is why we care about what's happening in Cuba where, thanks to a 60+ year-long U.S. embargo, economic conditions are dire. There are rising food prices, rolling blackouts, and medicine shortages.
Last Sunday the U.S.-caused crisis resulted in anti-government protests on Cuba's streets and now far-right regime-change proponents are clamoring to make things even worse. Miami Mayor Francis Suarez is suggesting airstrikes. Republican Congressman Anthony Sabatini says the Cuban government should be overthrown and its leaders executed. Senator Rick Scott wants even more sanctions on the Cuban people! Those calling for war or sanctions claim that they want to help the Cuban people, but we know that the best way to help the Cuban people is to lift the embargo now.
Tell President Biden to lift the embargo on Cuba!
The embargo, put in place over 60 years ago, was specifically designed to bring about hunger, desperation, and "overthrow" of the Cuban government. President Trump made the embargo even worse by hitting Cuba's energy, tourism and banking sectors, among others, as part of his "maximum pressure campaign" against the Cuban government. He even limited the amount of remittances U.S. citizens can send to Cuba, as well as limiting travel to the island. Trump then imposed even more sanctions during the pandemic! The combination of the embargo, the Trump sanctions, and the pandemic make life incredibly difficult for ordinary Cubans.
Biden made a campaign promise to reverse the Trump sanctions. Unfortunately, his lack of leadership has opened the door for right-wingers to use the protests to take control of the narrative. Just yesterday he broke his pledge and said the limits on remittances would remain. It's crucial that we provide a strong counterweight by calling for an end to the Cuban embargo!
The good news is that we're not alone in this. Some politicians are pushing back — Senator Bernie Sanders is calling for an end to the embargo and House Foreign Affairs Committee Chairman Greg Meeks, among others, is asking the Biden administration to lift the Trump sanctions!
Join the movement calling on President Biden to lift the Trump sanctions, end the embargo, and enter into full diplomatic relations with Cuba!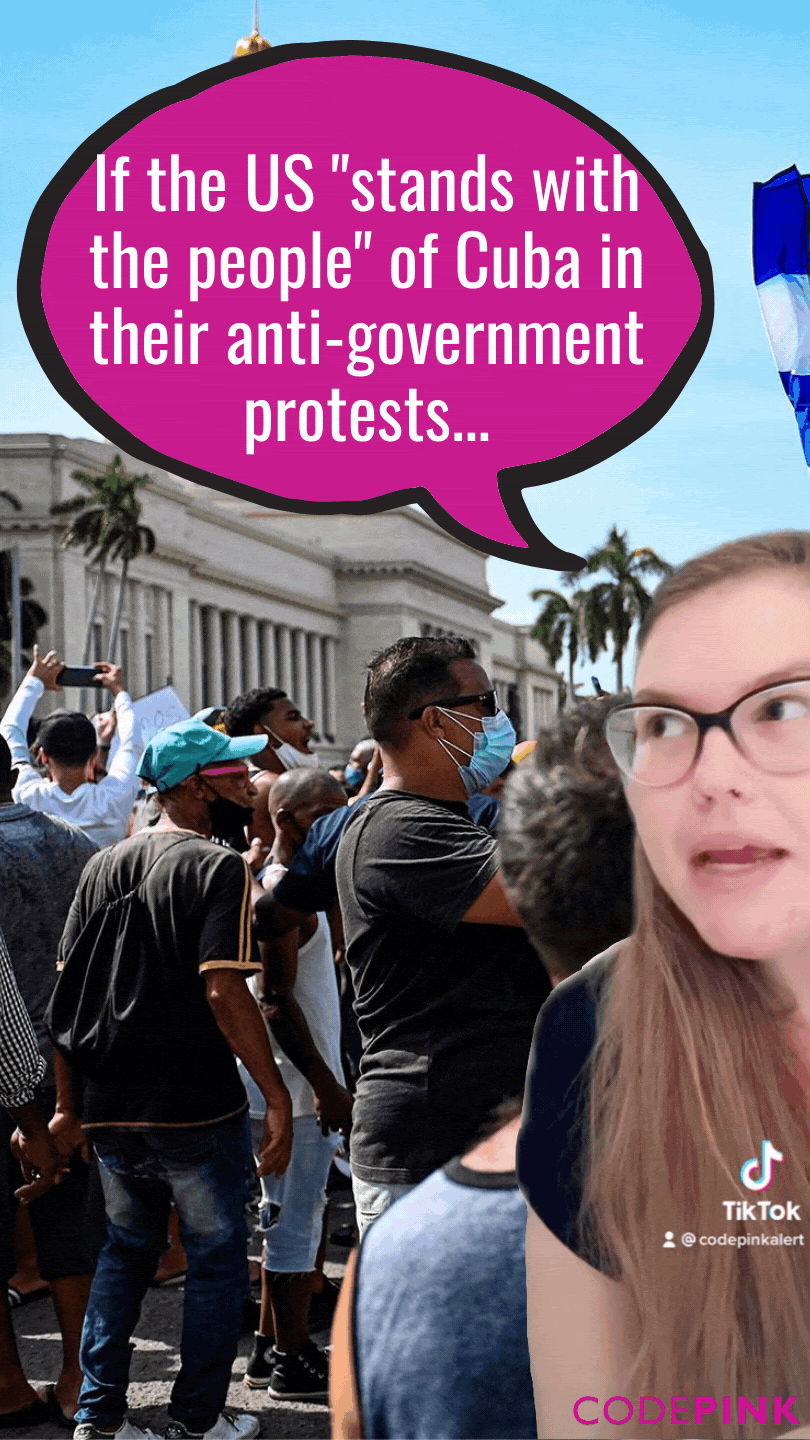 The embargo is cruel and illegal, and it affects every single person in Cuba. The best way to help Cubans is to lift it now. To learn more, read this article Leonardo and I wrote about the protests and the embargo. Also, make sure to watch this TikTok by Emily, where she questions why a few days of protests in Cuba of thousands drew more media attention than years of protests by hundreds of thousands of Haitians.
In radical solidarity,
Medea, Leonardo, Michelle, Teri, Carley, Ariel, Ally, Alida, Ann, Ciara, Cody, Danaka, Emily, Farida, Jodie, Kelly, Leila, Madison, Mary, Marcy, Moses, Nancy, Paki, RJ and Sana
***
Right now, Lakota Law is doing all we can to help build the movement to stop the Line 3 pipeline. As you may recall, I made my first visit to the protest camps last month, and we have since sent two more delegations — including a media team who produced this video from the frontlines. We are far from done. At month's end, we'll send a more permanent presence to assist our Anishnaabe relatives in their fight to protect sacred lands and rivers.
Watch: Line 3 camp leaders spoke to us about the need for participation, prayer, and action to stop this dangerous pipeline.
Our world continues to move toward the brink of climate catastrophe. If we don't fight new, poisonous pipelines, we risk the death of Unci Maka — our Grandmother Earth — and all our relatives: the waters, the animals, and the people. That's why I hope you'll continue to empower this movement. We must show up and give of ourselves so the next seven generations can live and flourish.
To protect the homelands of the Anishinaabe People, Native water protectors and allies have been standing against this toxic pipeline for years now. At the Line 3 frontlines, I met with many relatives called to defend the sacred. They're sacrificing every day and doing amazing work, but they also need our help. For this movement to succeed, more people, more resistance, more media coverage, and more action from our elected leaders must happen — and soon.
We're creating a support plan inclusive of you, my relatives, because it is going to take all of us to stop this. There are many ways to help. The resistance highway has several lanes, and they're all valid — whether you are chained to a bulldozer, or making art, or signing petitions.
This fight has multiple frontlines, not just one. And camps are spread hours apart, separated by distance and complicated by the lack of cell service. Our media team felt the drills boring into the ground and under the Mississippi while they slept. Even as the pipeline experienced a "frac-out," or release of drilling fluids into the river, the camps — including Red Lake Treaty Camp, Manoomin Camp, Shell River Camp, Welcome Water Protector Center, and Camp Migizi — are all urgently in need of people.
If you can show up in person as a water protector, you will be in good company — and we will happily provide resources for you to participate in a good way. Regardless, please do what you can to stand with the Anishnaabe by amplifying this struggle.
Wopila tanka — thank you for your dedication to safeguarding sacred land and water.
Madonna Thunder Hawk,
Cheyenne River Organizer
The Lakota People's Law Project
***





When it comes to getting 'forever chemicals' out of our drinking water, your hard work and amazing advocacy have paid off! This week, the House of Representatives is expected to vote on creating a national standard that finally sets strict limits on PFAS chemicals in our water!

This is a huge step forward in protecting families, since PFAS have been linked to cancer, birth defects, and other serious health problems. PFAS are called 'forever chemicals' because they don't easily break down in the environment — 97% of Americans have measurable levels of these chemicals in their blood.

But getting this critical bill through Congress is going to be an uphill battle. Giant chemical companies and manufacturers oppose PFAS limits, which is why it's so important everyone speaks out now before the vote.

Will you send a quick email message to your Representative to vote YES on the PFAS Action Act? It will make a huge difference in making our drinking water safer.

Consumer Reports' members across the country helped us test tap water, and nearly every sample we examined had measurable levels of PFAS. In response to that disturbing report, 60,000 of you signed our petition earlier this year to the Administration and EPA to set an enforceable limit on these contaminants.

That testing and advocacy made a real difference. The PFAS Action Act not only would create a drinking water standard, it would designate these chemicals as hazardous substances, limit industrial discharge, and provide funding for water treatment.

Most of our local and city water systems don't monitor PFAS, and until we have a federal standard, we can't protect our families from these chemicals. C.A., will you send a message to your Representative showing your support for the PFAS Action Act? The vote could happen this week!

We're thankful for all of the work you have done to fight for a federal standard for PFAS in drinking water — your advocacy makes all our families safer and healthier. Can you do one more thing after you act, and share this email with friends and family? Spreading the word this week is critical to getting this bill passed.

Meg Bohne
Consumer Reports